Vorige citaten:
My name is the Big Book, and my future is up for auction

By Felicia R. Lee
New York Times
On June 10, 1935, Robert Smith, a physician from Akron, Ohio, took his last drink. He and William Wilson (later better known as Dr. Bob and Bill W.) had no idea that the date would later mark the beginning of what some consider one of the most important movements in the 20th century: Alcoholics Anonymous.
Wilson later wrote an account of their philosophy — that only an alcoholic could help another alcoholic quit drinking — and the lives of other alcoholics that is referred to as the Big Book, the movement's bible.
Intense speculation
Now Sotheby's is planning to auction what it says is Wilson's master copy of the working draft of Alcoholics Anonymous, the Big Book's disarmingly straightforward official title.
Its value has been estimated by the auction house as $300,000 to $500,000. The sale, scheduled for Friday, has created excited speculation among collectors and scholars about who will buy it, and a debate about its value and rightful place.
[...]
---
From:
Houston Cronicle
June 15, 2004, 8:48PM
---
Who Am I?
Dietrich Bonhoeffer
Who am I? They often tell me I would step from my cell's confinement calmly, cheerfully, firmly, like a squire from his country-house.

Who am I? They often tell me I would talk to my warden freely and friendly and clearly, as though it were mine to command.

Who am I? They also tell me I would bear the days of misfortune equably, smilingly, proudly, like one accustomed to win.

Am I then really all that which other men tell of, or am I only what I know of myself, restless and longing and sick, like a bird in a cage, struggling for breath, as though hands were compressing my throat, yearning for colors, for flowers, for the voices of birds, thirsting for words of kindness, for neighborliness, trembling with anger at despotisms and petty humiliation, tossing in expectation of great events, powerlessly trembling for friends at an infinite distance, weary and empty at praying, at thinking, at making, faint and ready to say farewell to it all.

Who am I?

This or the other?

Am I one person today, and tomorrow another?

Am I both at once?

A hypocrite before others, and before myself a contemptibly woebegone weakling?

Or is something within me still like a beaten army, fleeing in disorder from victory already achieved?

Who am I? They mock me, these lonely questions of mine.

Whoever I am, Thou knowest, O God, I am thine.
---
Dietrich Bonhoeffer wrote this poem in prison in 1945.

Read more...
---
The Song of the Vision of Cutting Through to the Clear Light of the Great Perfection, which has the Potential of Leading us Quickly Through the Path and Stages
The Flight Of The Garuda
Shabkar Lama
Song Two
EHMAHO! Nobel beloved sons and daughters, listen without distraction! All the Victorious Buddhas if the past, present and future have taught eighty-four thousand books of scripture, teaching as boundless as space itself, but all to one end: how to realize the nature of mind. The Buddhas taught nothing more than this.
If the principal root of a tall tree is severed, its ten thousand branches and leaves will wither and die all together; likewise, when the single root of mind is cut, the leaves of samsara, such as dualistic clinging, perish.
The empty house that has stood in darkness for millennia is illuminated instantly by a single lamp; likewise, an instant's realization of the mind's clear light eradicates negative propensities and mental obscurations inculcated over countless aeons.
The brilliance and clarity of sunlight cannot be dimmed by aeons of darkness; likewise, the radiance of the mind's essential nature cannot be obscured by aeons of delusion.
Indeterminate is the color and shape of the sky, and it's nature is unaffected by black or white clouds; likewise, the color and shape of mind's nature is indeterminate, and it cannot be tainted by black or white conduct, by virtue or vice.
Milk is the basis of butter, but the butter will not separate until the milk is churned; likewise, human nature is the ground of Buddhahood, but without existential realization sentient beings cannot awaken.
Through gnostic experience of the nature of reality, through practice of these precepts, all beings can gain freedom; regardless of the acuity of his faculties even a cowherd attains liberation if his existential experience is nondual realization.
When you realize the clear light of mind's nature, the pundit's words of wisdom are redundant. How relevant is another's description of the taste of treacle when your mouth is full of it?
Even the pundit is deluded if he has no existential realization. He may be skilled in comprehensive exposition of the nine approaches to Buddhahood, but he is as far distant from Buddhahood as the earth is from the sky if he knows of it only from second-hand accounts.
You may keep your strict moral discipline for an aeon and patiently practice meditation for an eternity, but if you have yet to realize the clear light of the mind's immaculate nature you will not extricate yourself from the three realms of samsara. Diligently examine the nature of your mind!
---
---
Zen Activism, Personal Transformation, and Global Healing
Robert D. Lyons

(Delivered August 1, 2003 at the Religion and Globalization Conference at Payap University, Chiang Mai, Thailand)
I can summarize my talk simply by saying that I feel that we face a calamitous situation in world today, and that we all have a moral responsibility to work to change it. How this is done, and how each of us integrates our work with our own faith are of course private and personal matters.

I want to share with you three ideas that have some power and promise for me: first, to cultivate a spiritual practice that itself has an orientation toward social engagement; second, to study and develop in service of social change; and third, to organize with others to act to transform our societies in a non-violent way.

I along with many of you am horrified about rampant globalization and Western-style consumerism; about American empire and militarism at home and abroad; about the breathtakingly rapid destruction of our natural environment; and about the savage realities of the culture we live in.

[…]
I would like to conclude by summarizing:
first, I believe that spiritual practice gives us a method for liberating ourselves from the enslavement of the dominant consumer culture;


that spiritual inquiry gives us a framework of truth with which to interpret a complex world;


and that by investigating the effects of how we live and act, we can better adhere to the principle of ahimsa, or non-harming.
I also feel
that a faith-based approach to forming community and engaging in political activism can be invaluable in the grand project of transforming our culture;


that communities and networks provide mutual support and other tangible and intangible benefits;


and that ultimately we hope that we can help to build a movement in which people take responsibility for their actions the world, and express themselves through engagement in a radically democratic and open-hearted manner.
---

Lees de volledige toespraak (pdf-bestand, 81 kB).

---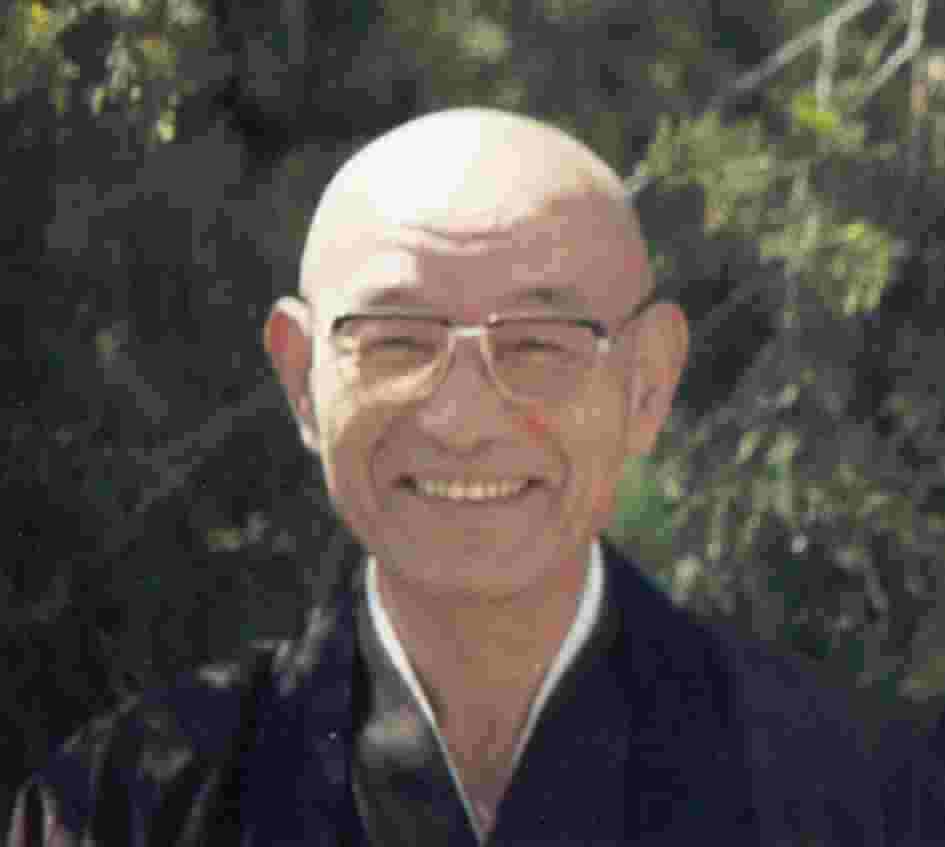 Jijuyu-Zanmai
Taizan Maezumi, Roshi
(1931-1995)

Jijuyu-zanmai,
self-fulfilling, self-sufficient samadhi,
is the condition in which we live.
It exists and functions naturally
and Kanzeon Bodhisattva represents that, see.
It doesn't matter, male or female.
Sometimes we say Kanjizai Bodhisattva,
Kan, to see or penetrate.
Ji,oneself,
Zai, is or to be.
To be and to function
for me it's the same thing.
When we say, "to be," it's somewhat static,
not doing anything
but just existing.
We often take it that way.
Being and doing
may seem to be different
but they really are the same,
There is no such state as just being,
even for inanimate things.
See, here is a saucer,
but there is activity in it.
You know how matter exists,
Particles are in motion—
protons, electrons, neutrons—
and they hold things together.
They are active.
They are doing something.
It is energy.
Kanjizai is the one who sees
what the self is,
how it exists
and what it is doing.
It is the wisdom side of
Avalokiteshvara Bodhisattva.
Kanzeon is the compassion side.
This means realizing not only who you are
and what you are doing,
but also how other people are doing.
So how do we function together
in jijuyu-zanmai?
We are living in that samadhi to begin with.
All of us are Kanzeon Bodhisattva!
Then how do we appreciate ourselves
and how do we appreciate other people's lives?
Can we live together as the self-fulfilled samadhi?
Oneself is not limited to the individual,
we can also be One as a group,
One as a sangha.
---
From:

Teaching of the Great Mountain
Zen Talks by
Taizan Maezumi

Edited by
Anton Tenkei Coppens

Tuttle Publishing
Boston - Rutland, VT - Tokyo, 2001
P. 85-86